Billings firefighters get safety training from Montana Rail Link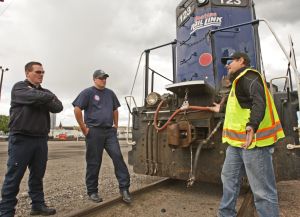 David Newman, accompanied by Billings Fire Department firefighters, entered a locomotive Wednesday afternoon to explain the basics of running a train.
Newman, a Montana Rail Link trainmaster, talked about the controls, how to apply the air brakes and how to turn off the engine.
He also showed the firefighters how to honk the horn. And it was loud.
Over the last three days, Montana Rail Link provided Billings firefighters with training on the construction and operation of engines and rail cars.
Crews from all Billings fire stations