Police release surveillance footage of suspected Monday casino robber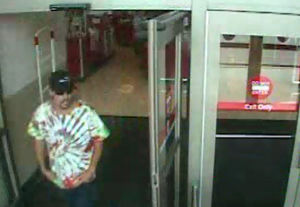 The Billings Police Department is asking for the public's help in identifying a man seen in surveillance footage and suspected in a West End casino robbery that happened Monday.
The robbery happened just before 2 p.m. when a man walked into the Casino Royale, 2455 Central Ave., and indicated he had a gun while he demanded cash, police said.
He left with an undisclosed amount of cash.
Surveillance footage from the nearby Target department store, taken shortly after the robbery and released by police on Wednesday, shows a man they say is the robber entering and leaving the store.
The footage shows a white man wearing a tie-dyed T-shirt, jeans, a black hat and sunglasses enter and leave the store.
Police ask that anybody with information about the man in the video call Crimestoppers at 245-6660 or the BPD detectives division at 657-8473.