Special Olympics Montana team on a roll, 2-0 at games so far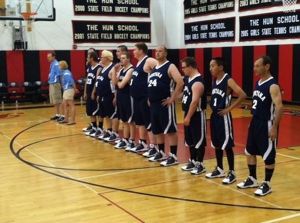 There hasn't been much downtime in the past few days for the Billings-based Special Olympics Montana basketball squad competing against teams from around the nation in this week's Special Olympics 2014 USA Games in Princeton, N.J.
"It's been a whirlwind," said Bob Nagy, the team's head coach. "They're having a wonderful time, both on the court and off the court."
Competition began on Monday and the 10-member team continued its unbeaten streak, which began with winning the Montana state tournament, by beating Pennsylvania 29-24 in its first game.
On Tuesday, team Montana notched its second win of the tournament, beating South Dakota 32-26.
"They're handling it very well," Nagy said. "Even in game situations we had some nerves and sometimes we had to settle down, and they did that."
The 10 men on the team are: Jason Brendt, Sam Burns, Albert Crowder, John Dodge, Keith King, Ben Lindenbaum, Joey Lucara, John Peck II, Josh Schindler and Logan Shaw. Nagy, his wife, Dianna, and Lanny Lucara are coaching the team.
Nagy said that while the competition has kept the team busy, they've had plenty to do off the court as well.
On Sunday, they participated in the games' opening ceremonies with more than 3,800 other athletes from around the country and have had the chance to met several celebrities.
So far they've met and shook hands with 2014 NBA Rookie of the Year Michael Carter-Williams and several professional wrestlers from the WWE.
"They were a little overwhelmed," Nagy said. "One of the guys told me he wasn't going to ever wash his hand again."
The team was scheduled on Tuesday night to take a dinner cruise tour around New York City and the Statue of Liberty with basketball teams from 26 other states.
They'll resume pool play on Wednesday, followed by tournament play on Thursday and Friday after seeding.
Nagy said that, between the generosity of supporters and more than 10,000 volunteers on hand, the games, not even halfway done yet, have been memorable for the Montana team.
"We've been treated amazing," he said. "These athletes are having a great time and, for some of them, it's their first time leaving Montana. It's been the experience of a lifetime."