Judge rules against troubled adopted kids' ranch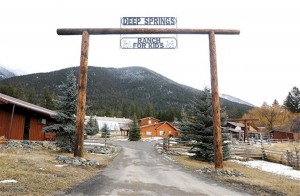 February 06, 2013 1:40 pm
•
HELENA — A state judge has ruled that a Montana ranch for troubled children adopted abroad is not an exempt church ministry and must be licensed by the state.
Ranch For Kids owner Joyce Sterkel had argued that her boarding school in Eureka should be free from state oversight because of an exemption in the law for adjunct ministries of local churches.
But District Judge Jim Wheelis of Libby agreed Tuesday with a state Department of Labor and Industry board's argument that the ranch was using the exemption only to skirt state fees and regulations.
Programs like Ranch for Kids are required to be licensed by the state Private Alternative Adolescent Residential or Outdoor Programs board unless they are a legitimate church ministry.
Wheelis asked Labor and Industry attorney Mary Tapper to draft an order requiring the ranch to be licensed. Tapper told The Associated Press on Wednesday that she expects to have the draft ready sometime next week.
"It's not our intention to shut them down," Tapper said. "However, they haven't been operating with a license the last 2 ½ years. At this juncture, we will work with them if they work with us."
Sterkel said she disagrees with the judge's ruling but will honor it. Many of the items to bring the ranch up to code are minor, she said.
"We're complying with them. We're getting everything together," she said.
More than two dozen children live on the ranch near the Canadian border. All were born in other countries and adopted by parents living in the U.S. Many have troubles that make it difficult for them to live at home due to fetal alcohol spectrum disorder or behavior issues that stem from trauma or difficult conditions in orphanages.
The ranch provides the children a structured environment in the mountains and aims to help them develop the skills to live with their families and in society. Many of the parents who have sent their children to the Ranch For Kids praise it and Sterkel for providing a service that few others can.
But Sterkel and ranch manager William Sutley have been at odds with state regulators since 2010, saying the regulators provide no services of value to the program — and actually hinder the ranch's work — for the thousands of dollars they demand in licensing fees.
In 2011, after the state board brought an action seeking to shut down the ranch for operating without a license, Sterkel announced that the ranch had become an adjunct ministry of the Epicenter International Missions Ministry, which was founded in 2004 by ranch employee Jeremy Evjene.
Tapper argued the association was in name only and Evjene's ministry had no building, no congregation and no ordained clergy, and that Sterkel was only looking for a loophole in the law.
Wheelis' decision was first reported by The Flathead Beacon. The Kalispell newspaper reported the judge also said the state has a right "to take steps to protect children regardless of where they're situated — a school, family," or other places.
Sterkel said there has been a lot of misinformation put out about the ranch as a result of this case.
"They know these kids are safe," she said.
The Ranch For Kids came under an international spotlight last summer when Russian children rights ombudsman Pavel Astakhov and human rights envoy Konstantin Dolgov showed up at its gates in Eureka.
The Russian officials demanded to check on the adopted children from Russia in Sterkel's care, but nobody came to meet them at the gate. The Russians, along with the film crew they brought with them, went away.