Washington helps Mustangs win rain-shortened game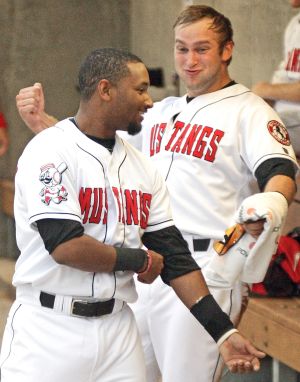 Ty Washington was a nomad of sorts last season.
Then-manager Pat Kelly slotted the Billings Mustangs second baseman anywhere and everywhere in the lineup. During his 53 games played last season, the 43rd-round pick from the 2011 draft made at least one start from every spot in the order.
Not that Washington minded.
"Really, it's just an honor to be in the lineup, to be honest with you," Washington said after he helped the Mustangs even their record at 1-1 following a rain-shortened 2-1 win over Great Falls on Tuesday night at Dehler Park. "First, last … anywhere they put me, I'll bat there."
New manager Dick Schofield has put Washington atop the Mustangs lineup each of the first two games of this season. Tuesday night, Washington went 3-for-4, including a third-inning solo home run that gave Billings a 2-0 lead. That run proved to be all-important, because a steady rain started in the seventh inning and eventually led to the game being called following a 39-minute delay after the eighth.
At 5-feet-9 and 170 pounds, Washington isn't the model for a middle-of-the-order hitter. But that's where he started the most games last season, batting third 19 times out of necessity for a team that badly needed a run-producer.
Despite his spot in the lineup, Washington wasn't much of a power threat. After hitting two home runs in the Arizona League in 2012, Washington was homerless last season in 193 at-bats for the Mustangs. So Tuesday's blast, which easily cleared the left field wall off Great Falls starter Chris Freudenburg, was a bit of a relief.
"I missed a couple pitches I should have hit hard (Monday night), and I didn't want to miss any tonight," Washington said. "I was coming off a back injury coming into last year, so I got into shape, got myself ready to go this year. I feel more powerful this year."
Washington showed he has the power to affect the game in many ways. He added a stolen base to his box score, and made two terrific defensive plays, both of which saved his team a run. The second of those came in the top of the seventh when his over-the-shoulder grab of Chevy Clarke's pop fly into short right field stranded two Voyagers to preserve the 2-1 lead.
"It was just an all-around great game for him," Schofield said. "Stolen base, home run, diving play to his left … Nothing crazy, it was just a well-played game. They had some nice plays of their own and I'm just glad we came out ahead."
KEY MOMENT: Great Falls seemed to have Mustangs starter Jeremy Kivel in trouble when Zac Fisher and Louie Lechich started the second inning with back-to-back singles. But Kivel made a leaping stab of Jackson Laumann's high-bouncing comebacker and threw to shortstop Cory Thompson to start a double play and end the threat. The Voyagers didn't have consecutive hits the rest of the night.
ON THE MOUND: Kivel teamed with relievers Soid Marquez (1-0) and Jefry Sierra on a six-hitter. Though he struggled at times to throw strikes and uncorked a wild pitch for the Voyagers' run (it was charged to Kivel), Marquez threw 2 2/3 scoreless innings to get the win. Sierra, who was an outfielder for the Mustangs in 2010, struck out two in the eighth inning to earn the save. Great Falls' Freudenburg was solid, needing just 67 pitches to get through six innings, but he allowed both Mustangs run and took the loss.
AT THE PLATE: Washington had three of the Mustangs' seven hits, but it was Aristides Aquino who put Billings up 1-0 in the first with an RBI single that scored Thompson. Shortstop Ryan Leonards (2-for-3) was the only player with multiple hits for the Voyagers.
ON DECK: The Mustangs and Voyagers wrap up their three-game series Wednesday night at 7:05.