Montana all-stars keep mood light ahead of Badlands Bowl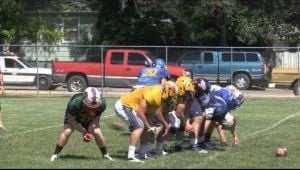 MILES CITY -- Having been to a few of these summer all-star practices over the past few years, I'm always amazed out how quickly the teams seem to come together. This year's Montana football team for the annual Knights of Columbus Badlands Bowl is no different.
There was plenty of joking and laughing at Wednesday's practice -- including from head coach Troy Purcell of Bozeman. Purcell had linemen Thomas Bear Robe of Billings Skyview and Jack Hape (I think) of Bozeman fielding punts during one drill. The players got a good laugh of the big fellas chasing down stray footballs.
That's just one example of how the coaches and players are keeping the mood light as they prepare for Saturday's game in Dickinson, N.D. against the North Dakota all-stars.
Montana has a 15-5 edge in the series, winning the last three games.
The Montana players know they're expected to win this game, and Miles City's Ben Herzog, who will play his college football at Dickinson State, said the team takes pride in the opportunity to continue the head-to-head success. Herzog will line up mostly at safety, but he's been playing some cornerback in practice and is the emergency backup quarterback to Will Weyer of Bozeman.
Herzog went as far to say that he would be surprised if North Dakota even scored in Saturday's game. I'm not willing to go that far, but Montana's defense should be very solid. Skyview's Trevor Hopf is playing on the offensive line, and he mentioned that the defense has a strong unit up front, noting the size of the defensive linemen like Bear Robe and Chris Emter of Livingston.
Herzog was also complimentary of the physical play of the secondary, as well as the instincts the linebackers are showing -- specifically Bozeman's Grant Collins.
Collins, who one could argue was the most valuable defensive player for the undefeated Hawks last season, should thrive in Saturday's game. All-star games are tailor-made for linebackers to excel, and Collins has all the physical tools. He's headed to Montana State in the fall.
Offensively, virtually everybody I talked to at practice raved about Weyer. The future Grizzly is a prototypical quarterback, and he's running his offense from Bozeman. Weyer said the team is coming together nicely, and he seemed quite pleased with his pass-catching options, though two of his receivers -- Connor Sullivan of Ennis and Peter Granger of Butte -- are a little nicked up. That does leave the depth chart a little thin, but there are still plenty of playmakers on the Montana offense.
Kalispell Glacier's Noah James and Bozeman's Hunter Gappmayer are the running backs. They'll play behind an offensive line that features a lot of future college players, including Hopf, who will line up for Montana Tech in the fall.
Overall, it looks and sounds as if Purcell and his coaching staff have a balanced team on both sides of the ball, and they'll be in good position to get win No. 16 in the series.