Badlands Bowl Notebook: Hawks take the lead for Montana stars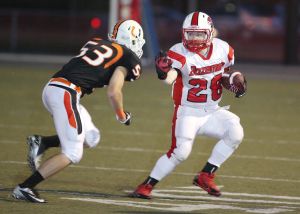 MILES CITY -- Troy Purcell called it "an honor and a privilege" to be selected as coach of the Montana football all-stars in the 21st Knights of Columbus Badlands Bowl, but the perks that come with the job are just as inviting.
As the man in charge, Bozeman's Purcell had plenty of leverage in picking the statewide roster, and he didn't shy away from trying to nab as many players from his unbeaten Class AA championship team as he could.
"We had a great year, and a lot of those kids I felt are the best kids in the state of Montana," Purcell said Tuesday. "I might be biased a little bit, but looking down the list I think we've got some great kids here.
"It's great to have the opportunity to be around them one more time."
A total of eight Bozeman players will suit up for the Montana team in its annual battle with the all-stars from North Dakota, which kicks off Saturday at the Biesiot Activities Center in Dickinson N.D.
Among them are quarterback Will Weyer, running back Hunter Gappmayer, receiver John D'Agostino and linebacker Grant Collins. It's a loaded group even without the Hawks' best player, defensive end/tight end Will Dissly, who isn't playing due to shoulder and foot injuries he suffered during the year.
"It's going to be fun," said the Montana State-bound Collins. "It's always a great opportunity to play with some of your guys that you'll never have a chance to play with again."
The Montana all-stars will run Bozeman's spread offense on Saturday. And Weyer, who will play at Montana, will pull the strings from under center. Weyer is the only quarterback officially listed on the roster, and he will handle the majority of the snaps -- if not all of them.
"It's awesome for sure," said the 6-foot-5, 225-pound Weyer, who led the Hawks to a 13-0 record and a 24-14 victory over Kalispell Glacier in the title game last November. "To play the whole game, if that's what happens … it's really cool to take charge of this offense."
For Purcell, it amounts to having eight extra teachers on the field.
"A lot of our coaches haven't been around this offense or defense, and these kids have been running it their whole lives," he said. "So if any of the other kids or coaches have questions, a lot of times one of the Bozeman guys can help coach them up on what we're trying to get done."
A new game
The Badlands Bowl will mark Connor Sullivan's first foray into 11-man football. Sullivan, a huge target as a wideout, prepped at Ennis, which he helped win the Class C 8-Man title last fall.
Despite tweaking his hamstring during Monday's practice, Sullivan has taken a liking to Bozeman's up-tempo offense.
"We were more of a slow-tempo, running, ground-and-pound-type offense," said Sullivan, who measures 6-4 and 220 pounds. "But with this it's fun -- you're constantly going and moving. There's a lot more passing."
Sullivan will accommodate himself with Montana State's quick-paced offense when he joins the football program there this fall. Sullivan, who averaged 18.4 yards per catch and had 16 touchdowns as a senior, said he is likely to redshirt his first season with the Bobcats. And that's fine by him.
"It's great. I'm more than happy to redshirt," Sullivan said. "Transitioning from an 8-man to an 11-man, Division I school … the speed of the game, getting bigger, faster, stronger, knowing the system better, I think it will be a huge help for me."
Quick transition
Linebacker Troy Scott and defensive back Evan Epperly are just four days removed from playing in the Montana-Wyoming All-Star basketball series. They helped the Montana team to a sweep on the hardwood last Saturday and then reported for football duty here on Sunday.
Dillon's Scott and Glacier's Epperly haven't been home in over a week.
"I stayed a night in Billings and caught a ride with Evan," Scott said. "We came over here and got down to grinding for some football."
Scott noted his propensity for facing fast transitions. During his years in Dillon, the Beavers typically played late into the football season, which made for a quick switch over to the basketball season.
"I'm used to it. It's a subtle change for me. It's normal," Scott said, grinning. Scott has signed to play basketball at Montana Western. Epperly is headed to play football at Montana.
Tidbits
• Montana owns a 15-5 series lead against North Dakota. The Treasure State has won three in a row, including a 43-29 romp last year. Montana has won six of the nine games played on North Dakota's turf.
• The North Dakota all-stars are coached by Minot's Barry Holmen. Purcell expects the North Dakotans to utilize Minot High's zone fly offense and an attacking, man-coverage defense.
"You've just kind of got to coach on the run with these types of games," Purcell said. "Who knows? They could come out in a Wing-T for all we know. But we've got a basic idea anyway of what they're going to run offensively and defensively."
• Montana defensive back Ben Herzog will play collegiately at Dickinson State, but he'll get an early feel for the Biesiot Activities Center turf on Saturday. Purcell said Miles City's Herzog is Weyer's backup at QB, but will likely only play on defense unless it's necessary.
• There was one change to the Montana roster announced Tuesday: Colstrip defensive lineman Tucker Yates had surgery in February to repair a torn pectoral muscle and has been replaced by Bozeman's Keavon Buckley.